Pre-script: This is mostly about my lil girl, and 1 vs 100BETA, but I must also mention how much her, and I are excited about the social aspects coming to Live. The Twitter, Last.Fm, and Facebook additions to live are really exciting to us. Now my E3 interests are all about Alan Wake, but this blog is about my lil girl so screw that for now >_> lol
I sit here in my room with my 12 year old daughter playing the E3, 1 vs 100 BETA, we are both in awe. She is not into games as she used to: This photo was taken 3-4 years ago, shows last time she was really into a game, YES that long (She is playing GH PART1 lol, what ever year that came out)...................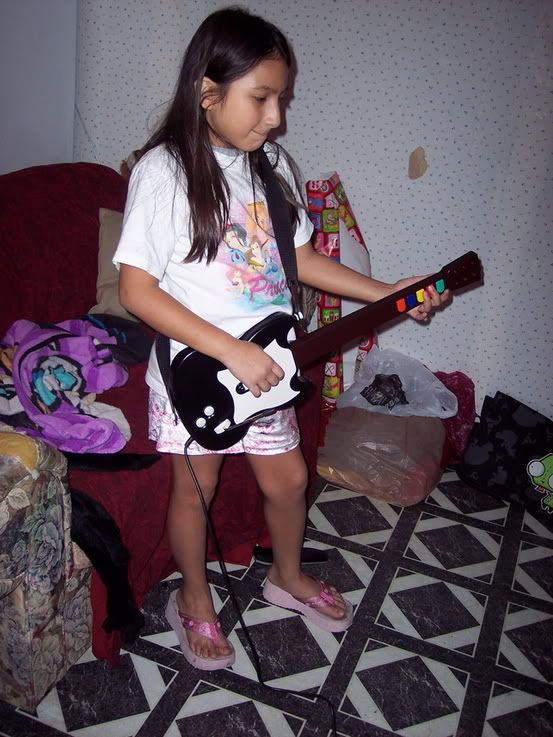 ...She was like 8-9 years of age in the pic, now she is at the tender age of 12. The age were looking pretty, and sneakers matter most to her. Now imagine me, an
extremely
hardcore gamer dad (
gamercard

link
) whose little girl semi-lost interest in games? It broke my heart. Now back to today
Monday
June 1st.
Xbox
live. 1 vs 100BETA. When my
daughter
found out about the 1 vs 100 BETA, and how it worked she was so excited. I mean EXCITED! She was counting the minutes to 10:30pm EST, and was heart broken when 10:27 came I tried to log on to the BETA, and I could not. I tried like 3-4 time, and kept getting the "WE FULL, FOOL!" message. So I told her "Al*** time to go to bed baby, I'm sorry" She said "its
ok
dad :/" and went to bed. I tried 2 more times, and on my last try BOOM BETA was there. I yelled at Al*** to come to the room! She got here in
literally
5 seconds to play herself, and watch me play. And BOY DID WE EVER play! Yelling at The Mob, Yelling at The One, yelling when we got the answer right by pure luck,etc,etc. People wonder why I think that MS is the best console out there right now. This. Is. Why. Now if she got into
GoW
or something I will be even more happy.
That's
is all for now